The time in Morgantown

Veröffentlicht am von Markus Robert
Location(s): Morgantown
Themen zu diesem Artikel: Englisch, Reportagen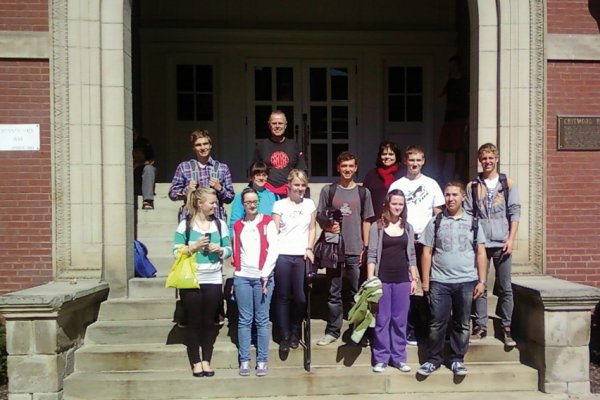 After a hard, long and difficult journey, we finally arrived in Morgantown on 7th October.
Or first day was full of appointments. On the day of our arrival we visited the campus of West Virginia University.

We all were so tired after that, because we stayed awake for more than 30 hours, but there was no time to sleep - in the evening there was a Football Game.
After such a long day most of us met their host families the first time and because I was so tired from the long journey I just wanted to sleep.

The next day was Gameday and we all went to the Football Game of the West Virginia Mountaineers.  At the entrance of the stadium a reporter from the local newspaper interviewed Anna and asked about our impressions of Morgantown and the GAPP exchange.  It was amazing there were more than 30,000 people in the stadium and the atmosphere was incredible.

On the next day we went to Cooper's Rock and had a picnic.

After the first weekend we had our first day at MHS, and then the yellow school bus came to pick us up, and we stood in such a typical corridor, and suddenly you knew that everything in the Highschool is like in all those movies about it.

The School Day at MHS is completely different compared to our school, everything is more relaxed and family-like.
And we were as well lucky that this week was Homecoming Week which is sometimes like "Fasching" for a whole week. So there was a lot of fun.

And at the end of the week we all were very close to our hosts and we also found some new friends at MHS.

At the Weekend we all had time to do something with our host families and I think everyone of us had their own adventures.
The second week at MHS was too short, I think that's what all of us would say about it. We had so much fun with the Americans and we just didn't want to go home.

But at the end of the week there was Farewell party, and time to say goodbye to our friends from MHS.